The Valley of Omaha Scottish Rite hosted the 263rd Reunion on November 19, 20, and 21st, welcoming 10 new Princes of the Royal Secret. Fourteen degrees were exemplified throughout the weekend. The Fall Reunion revives the tradition of naming a class after a departed Brother who exemplified the leadership and service of the Scottish Rite. This class was the "Larry J. Zwart, 33° Memorial Class," remembering Larry Zwart, who passed away this past September. Larry was a past officer, degree team member, and active Mason whose thirst for knowledge truly exemplified the spirit of the Scottish Rite, and his presence will be truly missed by all who knew him.
The Reunion began with pizza and social time on Thursday, November 19th, with a few words from Charles V. Sederstrom, Jr., 33°, Sovereign Grand Inspector General. Don Kavalec, 32° KCCH, Don Leu, 32° and Rob Corsaro, 32° hosted a brief orientation for members, particularly those from the past several classes. Afterward, the 4° and 8° were exemplified in the theater.
On Friday, November 20, the evening began with dinner served by the Culinary Masters, followed by the 9°-10°, 13°, and 14°.
Saturday morning began with an excellent breakfast prepared and served by the Knights of St. Andrew, with sausage and bacon, scrambled eggs, biscuits and gravy, and tater-tots. Afterward, the Reunion continued with the 15°, 18°, 21°, 25°, 29°, 30°, 31°, and 32°.
As new members enjoyed cocktails in the lounge after a long day of degrees, Scottish Rite Ladies Group co-chairs Brenda Coleman and Kristi Vandergriff hosted a Ladies Orientation program on the second floor, introducing new members' ladies and providing information that too often does not get conveyed to them: what does a "Reunion" mean, what do Scottish Rite Masons do, what are our philanthropies, what events do we hold, what is the dress code, when do we meet, and how do we get involved.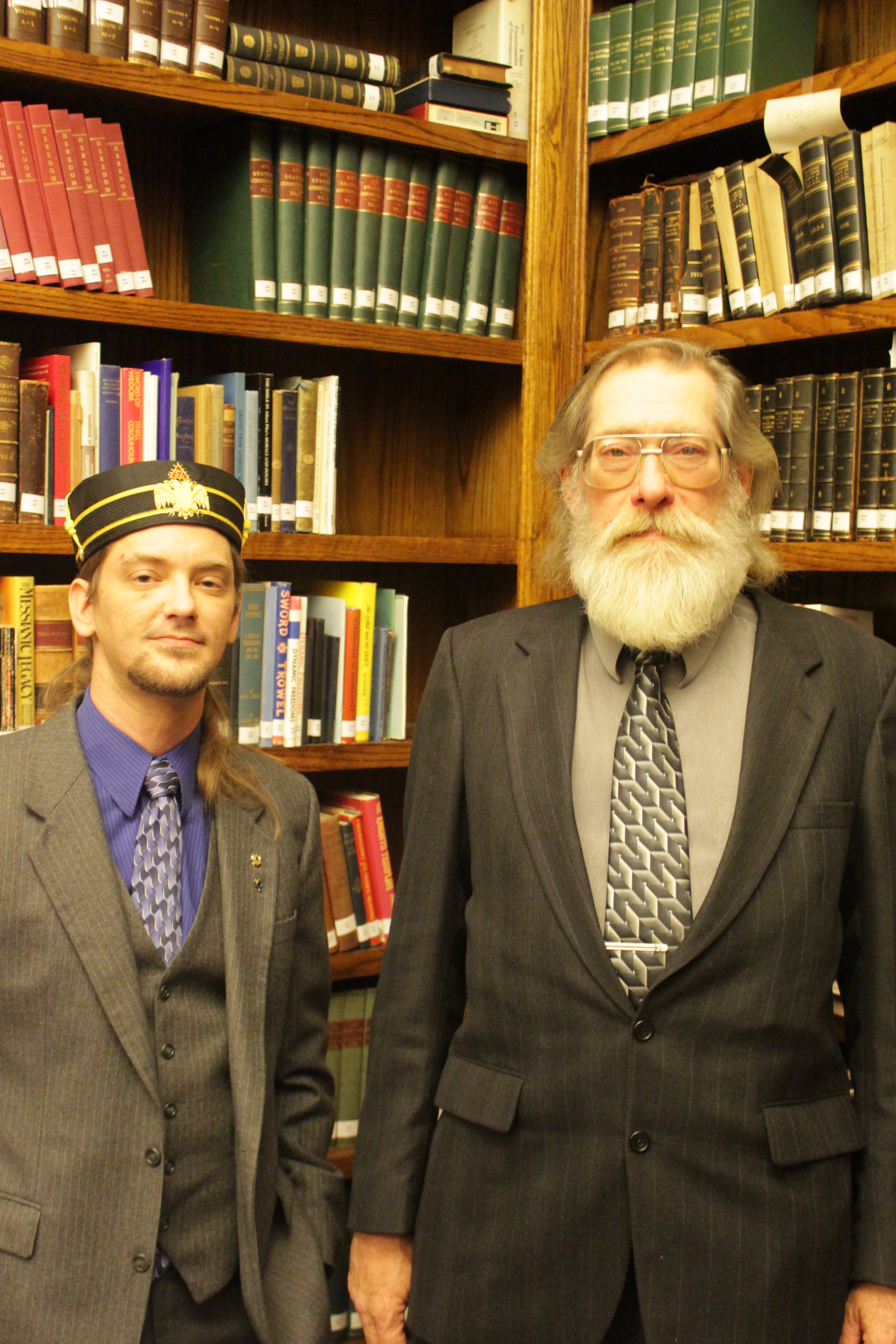 An interesting side story to this Reunion was having Eric and Brandon Van Sky join during this Reunion. While certainly not the first father/son team joining in the same Reunion, they are the first father/son pair to join together in a long time. Both Eric and Brandon are members of Bellevue Lodge #325. They join other father/son Scottish Rite Masons, including Ralph Burch (joining in this Reunion) who joins son Eric Cramer, Jim Beard and Scott Beard, Cliff and Jeffrey Coleman, and Charles V. Sederstrom, Jr. and III, Frank and Andy Kroupa, among other notable father/son teams.
Each November, a banquet is held in the Fall for new members and the new members who joined in the Spring Reunion. About 120 were in attendance to welcome new members. The evening was emceed by James Sklenar, 32° KCCH, Eminent Commander for the Consistory line officers. Access 66 catering served an excellent dinner of turkey, pork, sweet potatoes, green beans, and chocolate mousse pie for dessert.
The evening concluded with dancing and music by the Rumbles, who were on their farewell tour after having played the midwest for 50 years. They filled the auditorium and members enjoyed an evening of great music from the 1950s-present and dancing.
The next Reunion is tentatively scheduled for 5, 6, and 7, 2016. To petition the Scottish Rite for membership or get involved, call the Scottish Rite office at (402) 342-1300 or e-mail General Secretary John T. Maxell, 33° at maxelljt@scottishriteomaha.org.